Because here's what I've found:
the only way for you to truly live your purpose,
is for your purpose to be really clear.
For you - and for the people who need you to make this impact.
So they can follow you, resonate with you, be inspired by you. So that they can feel the calling, deeply, to step into the work with you. So that you can serve them, fully glowing in your knowing that what you do is completely on purpose.
And so the sacred exchange of serving versus money can happen, as it must.
So you can feel fulfilled, making money doing meaningful work in the world.

What if I told you that you could ...
Feel confident that you KNOW what your Purpose is ?
Share your Purpose with POWERFUL CLARITY
so you can attract the right audience ?
Witness the impact of your message being deeply felt
and experienced in the world ?
Authentically stand out and create real, feel-good and rewarding connections with your audience and business besties ?




In my step-by-step e-course, Powerfully Purposeful, you'll be guided through a fun & easy process that will help you feel clear and confident about your purpose. And you will learn how to find the right words to speak about your purpose - so your message can resonate with your audience, your Soul Tribe.
The best part? Your Soul Tribe is the right kind of audience:
the people who will resonate with you and your work, who will become your raving fans, and your customers. We're not just trying to "speak to the masses" here. We're speaking to your audience, your people.
And that is what will result in the absolute blissful experience of knowing you are living on purpose, gifting you with the immense satisfaction of doing work that creates meaning, impact, and soulful business success.




Put simply, if you cannot TALK about or EXPRESS your purpose with clarity, you will not have the impact you feel called to make.
Powerfully Purposeful takes you into a crystal-clear knowing of your purpose.
And then, it takes that knowing, that clarity, and translates it into
REAL, TANGIBLE messages you can share with your Soul Tribe.
Knowing how to clearly talk about your purpose with others allows you
to connect with your tribe on a whole new level, helping you:
Create excitement and enthusiasm in your supporters, fans, and sponsors
(bringing you unexpected support, contacts and resources)

Having people feel like they are a part of something special, something magical,
something that resonates deeply
(instead of you being just another coach, or designer, or ...)
Creating a heart-centered flow for your tribe from being inspired by your stories
to buying your products and experiences
(so your business can support you, as it should)

What's included, you ask?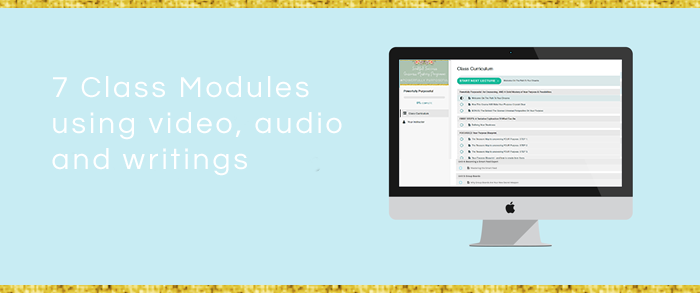 Powerfully Purposeful will bring you:

Clarity on your purpose, so you can feel confident, solid and absolutely secure in your knowing of your purpose

A powerful ritual for the claiming of your purpose, a sacred vow to God/Universe/Spirit, so you can reaffirm the beauty and power of your desire to live a heart-centered, impact-focused life in joy and ease

A gentle and fun process to find the perfect words to express your purpose so you can speak and share a powerful and compelling message that really speaks from your heart to the heart of your tribe

An easy and easeful exploration of the art of storytelling, so you can create that content-rich, heart-centered tapestry of stories that will truly create a powerful and deeply impactful experience for the people in your audience and tribe

A better chance at sharing your purpose in a way that translates into the money that you need to fully create
the big impact you feel called to
CLARITY . CONFIDENCE . MESSAGE . STORIES . RESULTS